Figure 93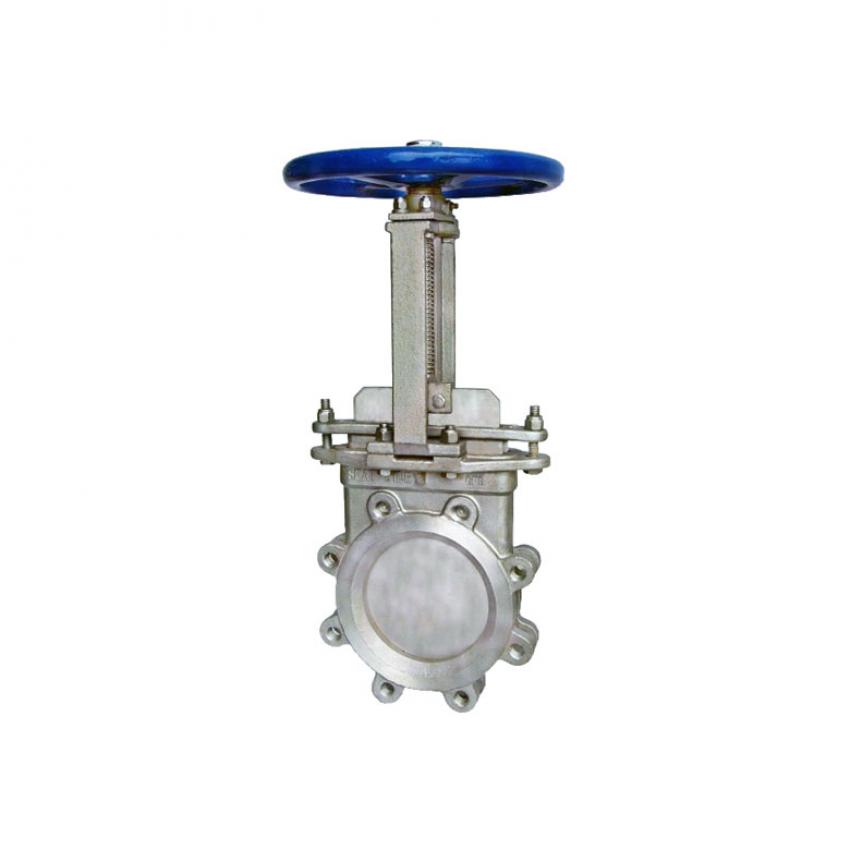 Figure 93
Metal Seated Knife Gate Valve
Specifications:
Cast stainless steel body, packing gland, and yoke.
Heavy duty body designed to resist deflection from line loads and internal pressure.
Body cavity, seat configuration and beveled gate design provides shut-off capability in thick media such as pulp stock and slurries, or solid media such as pellets and powders.
Heavy duty cast stainless steel yoke will not bend or twist under extreme loads.
Easy conversion from handwheel operator to hydraulic or pneumatic cylinder, bevel gear, chainwheel, electric motor, or fail safe spring cylinder operator using existing cast yoke.
Enclosed bronze stem bushing provides reduced operating torque and protection of the stem bushing in harsh environments.
Hard faced seat available to prevent galling in high cycle and/or high end pressure or abrasive applications.
Factory installed V-Port inserts available for metering or throttling service.
O-Ring resilient seat available.
Precision machined stainless steel gate provides superior seating capability.
Gate designed to withstand full 150 PSI rated pressure as required by MSS-SP-81.
Stainless steel stem resists corrosion.
Various wiper materials available in packing to provide gate support and stabilize packing seal.
Standard TFE lubricated synthetic packing (TLSP) rated to 500° F and pH range of 3-11.
Full port ID.
MSS SP-81 Stainless Steel, Bonnetless, Flanged Knife Gate Valves.
AWWA C520-10 Knife Gate Valves, 2" - 96"