Figure 63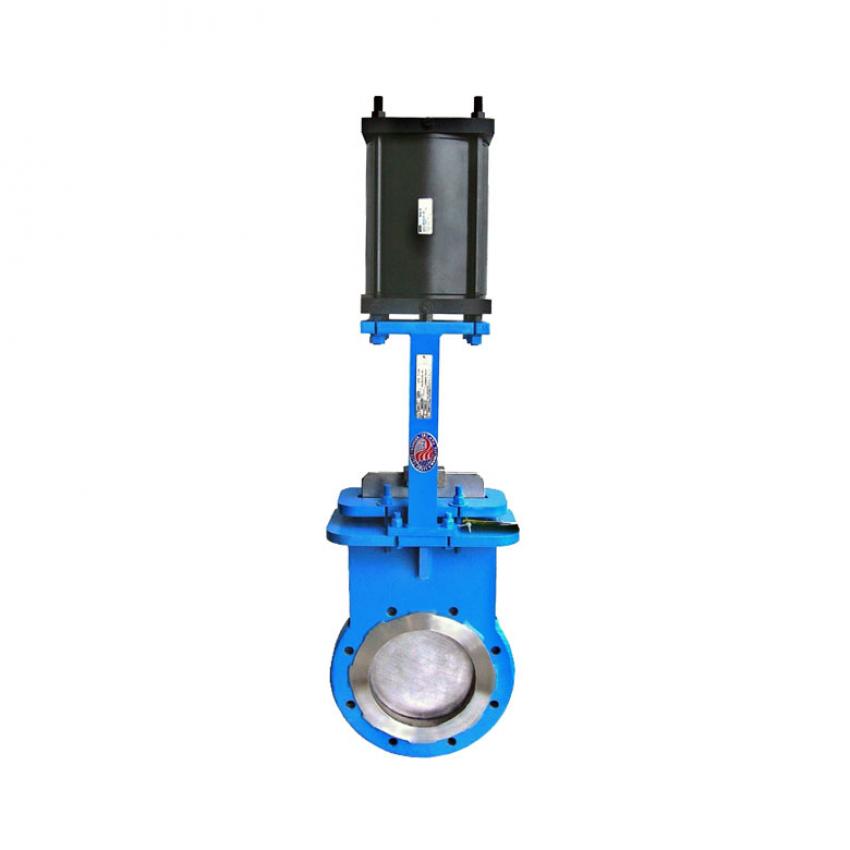 Figure 63
Resilient Seated Knife Gate Valve
Specifications: 
Heavy duty fabricated carbon or stainless steel body, yoke, and packing gland.
UHMW, PTFE, or Polypropylene liner and seat provide bi-directional tight shut off. Contact Factory for service limits.
Three-piece field replaceable liner/seat.
Standard pressure ratings of 150 or 300 PSI CWP. Higher pressure ratings and custom designs available.
ANSI B16.5 Class 150 lb or 300 lb flange bolting.
MSS SP-81 face-to-face and flange dimensions for 150 PSI only.
Stainless steel gate and stem for corrosion resistance and durability. Special Alloys, coatings and surface hardening available.
Superior packing arrangement provides improved sealing performance in high cycle applications.
Full port inside diameter in all sizes. Custom port sizes and designs available.
Minimum 4 bolt packing gland design to assure proper gland alignment in all sizes.
Standard TFE lubricated synthetic packing (TLSP).
Available with manual handwheel, chainwheel, bevel gear, pneumatic or hydraulic cylinder, fail safe spring cylinder, or electric motor actuator.
Enclosed bronze stem bushing provides reduced operating torque and protects the stem bushing in harsh environments.
Recommended for applications requiring superior corrosion and/or erosion resistance, heavy slurry, and high cycle applications.
MSS SP-81 Stainless Steel, Bonnetless, Flanged Knife Gate Valves.
CRN Registered.