Figure 65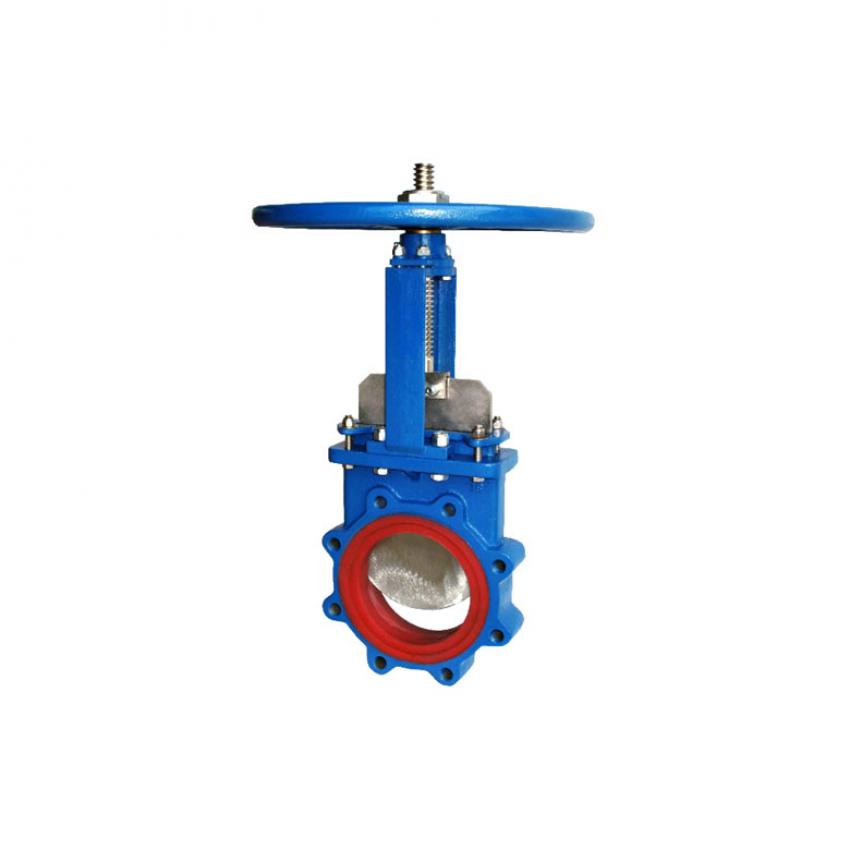 Figure 65
Resilient Seated Knife Gate Valve
Specifications: 
Heavy duty cast ductile iron body, packing gland and yoke for the most rugged service.
Heavy duty solid lug body design.
Urethane liner and seat provide bi-directional bubble tight seal across gate from 0 to 150 PSI.
Seat is flush with the bottom of the port, eliminating pockets in the bottom of the valve to collect material in media such as slurries, pellets, or powders.
Urethane liner is a one-piece, molded-in-place full body liner with integral seat for temperatures to 165?F.
Stainless steel gate and stem provide corrosion resistance and durability.
MSS SP-81 face-to-face and flange dimensions.
Easy conversion from handwheel operator to hydraulic or pneumatic cylinder, bevel gear, chainwheel, electric motor, or fail safe spring cylinder operator using existing cast yoke.
Enclosed bronze stem bushing provides reduced operating torque and protects the stem bushing in harsh environments.
Superior packing arrangement provides improved sealing performance in high cycle applications.
Full packing seal around gate minimizes the potential for packing leakage.
Minimum 4 bolt packing gland to assure proper gland alignment in all sizes.
Standard TFE lubricated synthetic packing (TLSP).
Time proven urethane liner provides the best resistance in abrasive applications.
Full port ID.
MSS SP-81 Stainless Steel, Bonnetless, Flanged Knife Gate Valves.
CRN Registered.