Figure 77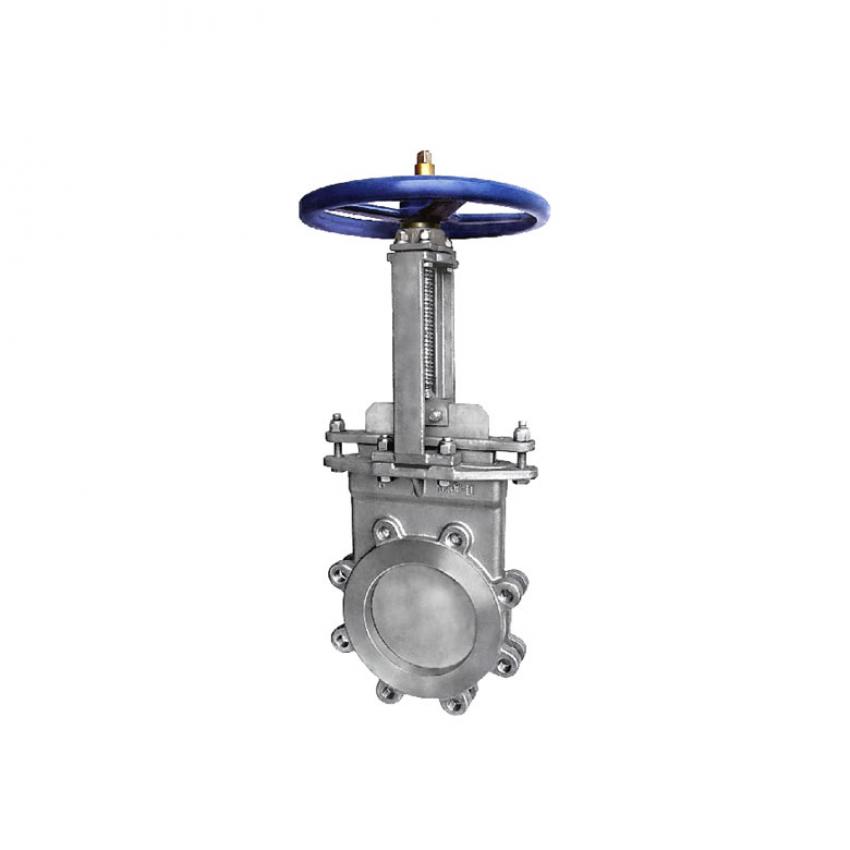 Figure 77
Resilient Seated Knife Gate Valve
Specifications: 
Cast stainless steel body, packing gland, and yoke.
Rubber seat provides a BI-DIRECTIONAL drip tight seal across the gate from 0 to 150 PSI.
Gate design withstands full 150 PSI rated pressure as required by MSS SP-81.
Bi-directional Buna resilient seat standard.
Also available in EPDM, Viton, Neoprene and other materials. 
Compact wafer configuration to TAPPI and MSS standard face-to-face.
Heavy duty body design resists deflection from line loads and internal pressure.
Rubber seat is flush with the bottom of the port ELIMINATING any pockets in the bottom of the valve that will collect media material.
Smooth flow non-clogging full port design.
Heavy duty cast stainless steel yoke will not bend or twist under extreme loads.
Easy conversion from handwheel operator to hydraulic or pneumatic cylinder, bevel gear, chainwheel, electric motor, or fail safe spring cylinder operator using existing cast yoke.
Bonnetless, outside screw and yoke, non-rising handwheel, and rising stem.
Enclosed bronze stem bushing provides reduced operating torque and protection of the stem bushing in harsh environments.
Stainless steel stem resists corrosion.
Standard TFE lubricated synthetic packing (TLSP).
Full port ID.
MSS SP-81 Stainless Steel, Bonnetless, Flanged Knife Gate Valves.
AWWA C520-10 Knife Gate Valves, 2" - 96"